West Linn Old Time Fair Parade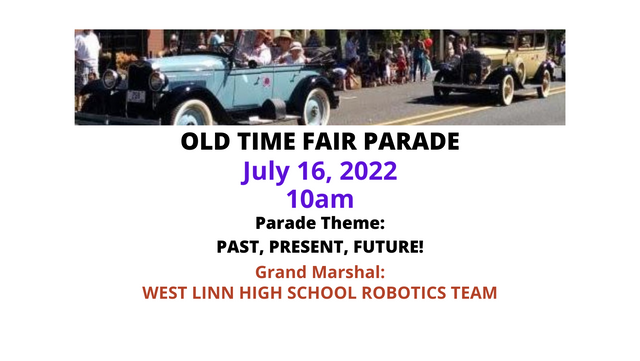 Description
We're BACK! And we can't wait to see you at this year's West Linn Old Time Fair Parade!
Come down to Historic Willamette and celebrate our great West Linn Community. There will be all kinds of great parade participants.
Get there early to find a parking space in the surrounding area and a spot to watch the parade.
Roads along parade route will be closed around 9:30, including Willamette Falls Drive between 10th - 14th Streets. Staging area will be closed and no parking allowed starting at 6am on Willamette Falls Drive between 6th - 10th Streets.
When you are done at the parade, head down to Willamette Park and join in the fun at the City of West Linn's Old Time Fair.
For those interested in having an entry in the parade, get more information 
here.
Historic Willamette Main Street
1785 Willamette Falls Drive, Suite #6, West Linn, OR 97068
Private:No
RSVP Required:No
Accept Registration Online:No