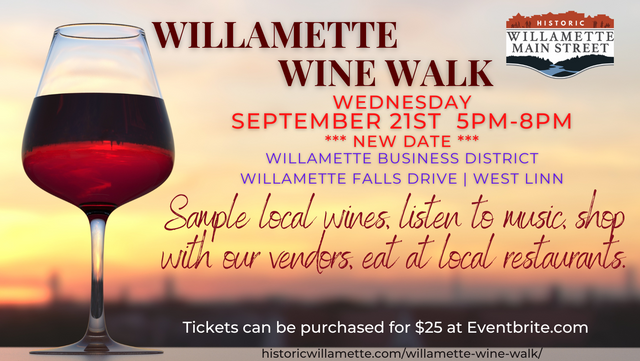 Description
***UPDATE***  We are postponing our Wine Walk until the 3rd Wednesday in September 09/21/22.  We will announce the information on social media once we get it confirmed.
Our beloved annual Wine Walk returns! 

Discover Willamette one taste at a time, dozen(s) of area wineries, each paired with a local business. 
A vendor market entices attendees to wander Willamette Main Street and discover other businesses. Each of the ticketed attendees (up to 350 initially) will receive a wine glass and bottle bag featuring event and sponsor logos. 
This event will feature live music, a raffle and local business specials.
Ticket go on sale AS SOON AS DATE IS CONFIRMED for $25 each and can be purchased at Eventbrite.
This year we will be hosting two raffles.  Raffle tickets can also be purchased online or in person.  
Raffle #1 will feature individual bottles of wine, one from each attending winery.  Winning ticket holders will receive one bottle of wine, chosen by event staff.  There will be as many winners as there are wineries.  Tickets for this raffle will cost $5 each or 6/$25.

Raffle #2 will feature one bottle of wine from each attending winery.  There will be one winning ticket holder who will receive this prize.  Tickets for this raffle will cost $25/each or 5/$100.
Only those that are 21 and over are eligible to purchase tickets to this event or raffle tickets.
All proceeds for this event including raffle tickets will go to Historic Willamette Main Street, a 501(c)3 organization, working towards their mission of celebrating and preserving the rich history and natural beauty of the area, investing in the heart of our downtown by promoting our local businesses. Our purpose is to foster an inclusive, diverse community where local residents and visitors feel welcome to dine, shop, connect and socialize with others.
Historic Willamette Main Street
1785 Willamette Falls Drive, Suite #6, West Linn, OR 97068
5:00 PM PDT
to 9:00 PM PDT
Private:No
RSVP Required:Yes
Accept Registration Online:No