Arch Bridge 100 Year Celebration!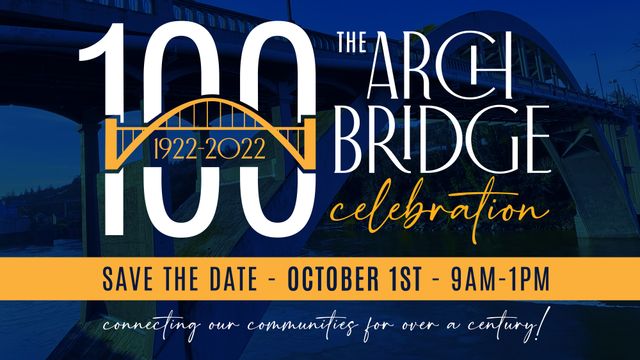 Description
The Arch Bridge is Turning 100!
Join us for a ONCE-IN-A-HUNDRED-YEARS CELEBRATION on Saturday, October 1, 2022!
The Arch Bridge is a steel through bridge spanning the Willamette River between Oregon City and West Linn. It was completed in 1922 and is listed on the National Register of Historic Places. Built and owned by the Oregon Department of Transportation(ODOT) as part of Oregon Route 43, it is the third-southernmost Willamette bridge in the Portland metropolitan area.
Join us on the bridge as Oregon City, West Linn, ODOT and partners celebrate the 100th year of this impressive structure, including a historic reenactment of the original Arch Bridge opening ceremony.
Historic Willamette Main Street
1785 Willamette Falls Drive, Suite #6, West Linn, OR 97068
9:00 AM PDT
to 2:00 PM PDT
Private:No
RSVP Required:No
Accept Registration Online:No