Willamette Distillery Stroll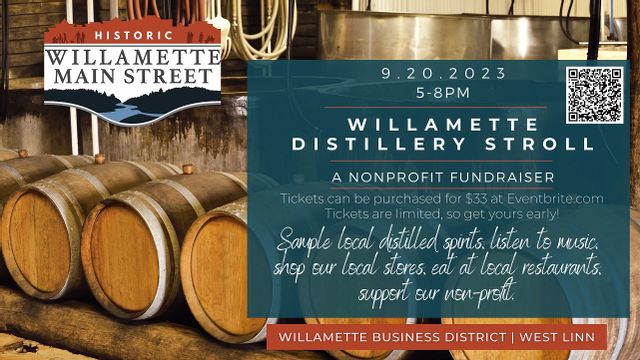 Description
🥃 Embark on a Flavorful Adventure: The Ultimate Distillery Stroll in West Linn!
🎉 Introducing our Distillery Stroll, your ticket to an evening of tastings, music, shopping, and community fun!
🍸 Indulge in the Finest Local Spirits: Sip and savor handcrafted distilled products crafted by talented local distillers.
🏛️ Wander through History: Immerse yourself in the charm of West Linn's Historic Willamette Business District as you stroll its picturesque streets.
🎶 Groove to the Rhythms: Let the rhythm move you as you enjoy the lively beats of The Steve and Margot show!
🛍️ Shop Local, Support Artisans: Discover unique treasures downtown. By supporting these artisans, you become a part of the thriving creative community of West Linn.
🍽️ Satisfy Your Cravings: Treat your taste buds to the delectable delights at the town's favorite local restaurants.
🎁 Win Big for a Worthy Cause: Participate in our exciting raffle, where your contributions will support the Historic Willamette Main Street, a non-profit organization dedicated to cultivating commerce and strengthening the bonds within our beloved downtown.
🎟️ Hurry! Limited Tickets Available: Don't miss out on this exclusive opportunity - secure your tickets today!
📅 Save the Date: Mark your calendar for an unforgettable evening of community, culture, and camaraderie. Join us for the Distillery Stroll and celebrate the very essence of West Linn. 👋 See you there!
Historic Willamette Main Street
1785 Willamette Falls Drive, Suite #6, West Linn, OR 97068
5:00 PM PDT
to 8:00 PM PDT