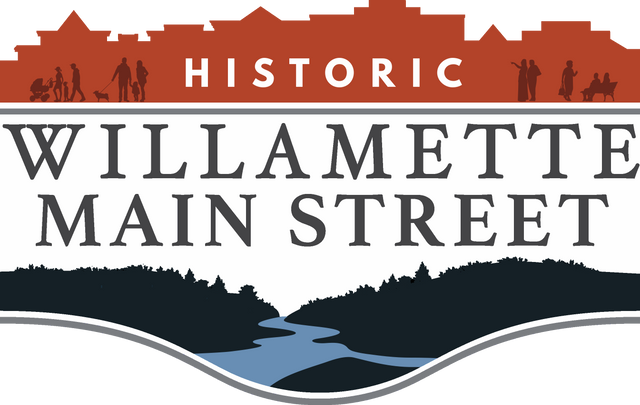 POSITION DESCRIPTION
POSITION NAME:               Events Coordinator
REPORTS TO:                     Executive Director
POSITION STATUS:            Part Time Employee
COMPENSATION:               $18/hour, paid monthly
 ABOUT HISTORIC WILLAMETTE MAIN STREET (HWMS):  Our nonprofit organization works to build a sense of community in our downtown and serves as a liaison between the Willamette Business Community, the City of West Linn, local & regional economic development and tourism groups as well as the nonprofit sector since 2010. We help to preserve our city's cultural identity through the continuing development of our downtown using four point approach including: Economic Vitality, Promotions, Design and Outreach/Organization.
Historic Willamette Main Street's mission is to celebrate and preserve the rich history and natural beauty of the area, investing in the heart of our downtown by promoting our local businesses. Our purpose is to foster an inclusive, diverse community where local residents and visitors feel welcome to dine, shop, connect and socialize with others.  We are a group of volunteer residents and merchants dedicated to preserving small town charm and a healthy economy among great shops, services and restaurants. 
HWMS is run by an Executive Director and is overseen by a Board of Directors (BOD) with sub-committees covering each of the four points and our Summer Market.  We are part of the national Main Street America's Affiliate Program and have achieved the Designated Main Street level of the Oregon Main Street Network this year! 
ABOUT HISTORIC WILLAMETTE MAIN STREET EVENTS:  We put on events and campaigns throughout the year aimed at promoting our downtown and creating a sense of community.  Our events are organized through our Promotions Committee with the assistance of our Executive Director.  Some events hosted throughout the year are: the Willamette Wine Walk, Winter In Willamette, St. Patrick's Day in Willamette, Cinco de Mayo in Willamette, Willamette Distillery Stroll, Willamette Septemberfest, Small Business Saturday and Wednesdays In Willamette Summer Street Market.
POSITION OVERVIEW:  The Events Coordinator, working closely with the Executive Director, collaborates with internal and external partners to produce and/or promote events throughout the Historic Willamette Business District.  The position requires event production skills to assist with the coordination and execution of a variety of meetings and events, including responsibility for all Promotions Committee Agendas, communications strategy and general needs from concept to finished project in an effort to create successful outcomes and meet all goals for each event.  The Event Coordinator will have an on-site presence during setup, takedown and actual event hours, they will also perform off-site work during non-event hours.  In addition, the Events Coordinator will represent HWMS to Vendors, Sponsors, Business Partners, Government Partners, Consumers and the Community.  The Events Coordinator will utilize various software and databases for operation of events, update our website and use Social Media to advertise events and provide updates.
SUPERVISORY RESPONSIBILITIES:     
·         May oversee event volunteers and/or event staff
REPORTS TO:
·         Executive Director
POSITION DUTIES:       
·         Coordinates Promotions Committee Meetings, including creating agendas and providing a summary to Executive Director and/or Board of Directors as requested.
·         Plans, develops, implements, and organizes events, vendors, musicians and volunteers from the conceptual phase to the final event execution.  This may include creating an electronic work plan, preliminary budget, meeting rooms/spaces, catering, signage, programs, music, security, display areas, and other specialized requirements.
·         Acts as a liaison between external partners, or any vendors for events HWMS is involved with.
·         Ensures that events and vendors meet legal, safety, and health requirements and regulations; obtains necessary permits from the Oregon Liquor and Cannabis Commission (OLCC), City, Fire and Health Departments, etc. 
·         Create & updates a publicity plan/calendar including website updates, email frequency, social media frequency (Facebook, Twitter, and Instagram etc.), event signage, banners, newspaper, etc.  Review with Executive Director and Promotions Subcommittee monthly.
·         Coordinates transportation for guests, attendees, speakers, or other parties as needed.
·         Addresses concerns, questions, and/or complaints throughout each event in coordination with Executive Director.
·         Coordinates registration process for event participants including ticketing and age verification checks if applicable.
·         Works with HWMS staff and external event organizers, on all administrative duties and details associated with the event including financial operations, distribution of promotional materials, and responding to inquiries.
·         Coordinates and oversees raffles and ensures follow-up for prizes and documentation.
·         Collects event recap data for all HWMS produced events.
·         Maintains current knowledge of event planning standards and trends by attending seminars, consulting with other professionals, and reading trade publications. 
·         Performs other related duties as assigned.
·         Responsible for managing & maintaining Promotions email accounts. 
·         Responsible for managing & maintaining documents in electronic document storage.
·         Monitor budget compliance on a weekly basis, alert Executive Director to any concerns.
·         Work with Board of Directors and Executive Director regarding Market Sponsorships.
·         Coordinate, including creation and distribution of, approved paid advertising such as flyers, banners, newspaper and Facebook advertisements, etc.
·         Organize supply trailer and provide a list of equipment & supplies and requests for additional resources to Executive Director.  Coordinate logistics for placement of Supply Trailer for all events as needed.
·         Assign and allocate market space as needed for optimum usage.
·         Identify projects and community activities that provide wholesome and educational activities that would be of benefit to our events, such as Scavenger Hunts, holidays or the engaging the West Linn Food Pantry's pick up of produce at market's close. 
·         Coordinate entertainment and other community activities for all applicable event days. Verify all contractual and insurance information have been obtained.
·         Identify and assist in applying for grants in conjunction with the Executive Director and Promotions Committee.
·         May be asked to recruit and assign volunteer help in coordination with the Promotions committee, including setup/takedown individuals for all events.
·         Develops and maintains current lists of available local event services including pricing options.
·         Knowledge and enforce HWMS Event Rules and Regulations.
·         Provide other management services necessary and appropriate to assure efficient event operation while maintaining at all times, positive, non-discriminatory relations with all vendors, customers and volunteers.
·         Attend Board of Directors meetings as requested.
·         Performs other duties as assigned.
Summer Market Manager (this position could possibly be combined with the Events Coordinator position with an increase in hours)
·         Work with stakeholders to create Market Handbook.
·         Manage and maintain vendor management software system, including creating market vendor applications.
·         Review market applications with Market Committee and Executive Director. 
·         Communicate regularly with vendors, business owners, and other stakeholders.  Includes vendor status and vendor space allocations.
·         Determine vendor placement, facilitate vendor set-up as needed, resolving any challenges that arise. Prepare Market site, including signage, barricades, tables, chairs, canopies and trash cans. Ensure Information Booth has all needed supplies and resources.
·         Coordinate volunteer to ring market opening and closing bell.
·         Participate in community meetings and activities on behalf of the WWSSM.
·         Issue weekly and seasonal invoices and record payments.  Ensure all vendor payments are collected and recorded accurately, refer refunds to Executive Director.
·         Create social media campaigns (Facebook, Twitter, Instagram etc.) including three weekly posts highlighting upcoming markets and entertainment. 
·         Respond to phone, email and social media communications.
·         Assist in recruiting staff for other market positions including Asst. Market Manager and Setup/Takedown Crew.
·         Make sure we have all resources needed to process SNAP (Supplemental Nutrition Assistance Program) and POP (Power of Produce) transactions.
·         Conduct market and customer surveys.
·         Create electronic Volunteer Signup for all open positions to ensure all staffing needs are met. Review weekly for unfilled positions and recruit volunteers ensuring coverage.
·         Submit weekly report to the Executive Director, including number of vendors, number of market customers, reported vendor revenues and satisfaction, customer and vendor suggestions, complaints and their resolutions.
·         Participate in end-of-season market evaluation and goal setting for the next season including annual budgeting process for next year's Market including providing any date sensitive items.
·         Ensure payment of entertainment and staff by Executive Director and/or Treasurer.
·         Knowledge and enforce WWSSM Rules and Regulations.
·         Performs other duties as assigned.
REQUIRED SKILLS/ABILITIES:
·         Excellent verbal and written communication skills.
·         Excellent interpersonal and customer service skills.
·         Excellent organizational skills, attention to detail and strong follow-up.
·         Excellent time management skills with a proven ability to meet deadlines.
·         Creative and effective problem-solving skills.
·         Ability to prioritize tasks and to delegate, if applicable.
·         Ability to work well under pressure and manage multiple projects simultaneously
·         Works well as a Team player, relating to all levels within HWMS or external organizations.
·         Ability to assist with event issues with a calm, courteous, and helpful manner and attitude.
·         Understanding of legal regulations and permits required for events. 
·         Proficient with social media venues for promoting events.
·         Proficient with Microsoft Office Suite or related software.
Education and Experience:
·         Associate's degree or equivalent in Hospitality, Meeting, and Event Planning or related field preferred. 
·         A minimum of two years' experience in customer service, retail, event planning, or a related field. 
Physical Requirements:
·         Must be able to stand and walk for long periods of time during events.
·         Must be able to lift up to 25 pounds at times.
·         Must be able to work a variety of hours in order to accommodate events.
Target start date ASAPPaid | Part Time | Hourly | $$18.00
Historic Willamette Main Street