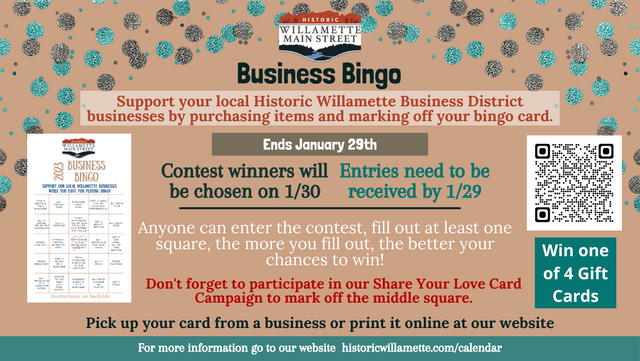 Description
Join us over the next couple of weeks for Business Bingo!!
It's a fun way for you to support our local Willamette Businesses while you have fun.  Pick up a Bingo Card at one of our businesses or click this 
link
to download a copy to print at home.  
You can fill one spot or complete the entire bingo card for a blackout.  The more spots you fill, the more chances you have to win.  Make sure you keep any receipts to send in with your entry. 
Four lucky winners will receive a gift card to one of our Willamette businesses.  See additional information in the Game Instructions listed below. 
GAME INSTRUCTIONS
Pick up a BINGO card. See our Facebook Page or Website for pick up locations or to download a PDF version
Use your BINGO card to shop Businesses in the Willamette Business District including Willamette Marketplace, 8th Avenue, 8th Court, and River Falls Shopping Center
Keep actual receipts or photos of them used to complete BINGO squares

You will need to provide proof of all your squares. Picture of your donation to Food Pantry will suffice.

Total entries will be tallied when you turn in your card.

1 entry for each square not resulting in a 'BINGO'
10 entries for each single line 'BINGO'
100 entries for a 'Blackout'

Drop off BINGO cards with receipts/pictures to either our black drop off box on our front porch or via email at [email protected] Make sure your enter your name, email and phone number.
Entries Due by January 29th 2023
Four Winners will be chosen randomly on January 30th. Each will receive a $25 Gift Card to the location of thier choice within the district.
ENTRIES SHOULD BE SENT TO:  
[email protected]
 or dropped at 1785 Willamette Falls Drive, Suite #6, West Linn, OR 97267
If you have questions, please send them to the email above or reach out to us at 503-420-3532
HAVE FUN AND THANK YOU FOR SUPPORTING OUR LOCAL BUSINESSES!
Historic Willamette Main Street
1785 Willamette Falls Drive, Suite #6, West Linn, OR 97068
Private:No
RSVP Required:No
Accept Registration Online:No