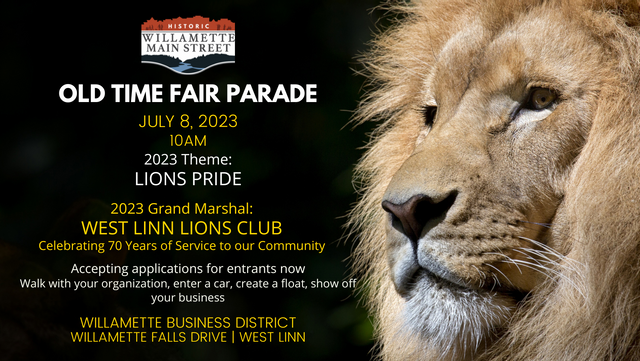 Description
The Old Time Fair Parade is just around the corner, and we couldn't be more excited! This year's parade theme is "Lion Pride," and we're honored to announce that the West Linn Lions Club will be our grand marshal.
What makes this year's parade even more special is that the West Linn Lions Club is celebrating their 70th year of serving our great town. The Lions Club has been an integral part of our community, and we're grateful for all they do to make West Linn a better place to live.
We invite everyone in our community to come out and show their Lion Pride at the parade on July 8th. Dress up in your best Lion-themed outfit, bring your family and friends, and get ready for a morning filled with joy and laughter.
And if you're interested in being a part of the parade, we'd love to have you! Whether you're representing your sports team, organization, business, or just want to show off your Lion Pride, you can sign up for a parade entry at this link: https://forms.microsoft.com/r/8HvSsJQPDW.
Roads along the parade route will be closed around 9:30am, including Willamette Falls Drive between 10th-14th Streets. Staging area will be closed and no parking allowed starting at 6am on Willamette Falls Drive between 6th-10th Streets.
When you are done at the parade, head down to Willamette Park and join in the fun at the City of West Linn's Old Time Fair.
Let's make this year's Old Time Fair Parade the best one yet! See you there, West Linn!
Historic Willamette Main Street
1785 Willamette Falls Drive, Suite #6, West Linn, OR 97068
Private:No
RSVP Required:No
Accept Registration Online:No